When you look cute in the kitchen, it just makes everything taste better, right?   Pretty cooks as pretty looks, isn't that how the saying goes?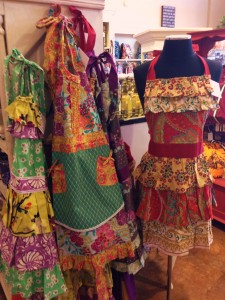 Even if your attempt at the perfect souffle is a failure, you'll look cute doing it, and that makes all the difference .
If you need a cute one, I would recommend these from Funktion Home.  They've got adorable ruffles and great prints and patterns to boot!  Vintage-inspired designs, available in children's sizes too – so you can have matching mother/daughter aprons.  I think they are very Anthropologie-esque, which means they're a hit in my house!